12 September
at
08:15
–
09:45
BST
Our Geostrategy Forum convenes and connects prominent stakeholders for monthly breakfast discussions on key geostrategic issues and foreign, defence and international trade policy matters. A keynote speaker discusses a prominent topic before invited guests exchange their views and ideas in a roundtable format.
The Geostrategy Forum takes place once a month at the In and Out Naval and Military Club. Events are by invitation only and take place strictly off the record.
Keynote speaker
The Rt. Hon. Anne-Marie Trevelyan MP
Minister of State for the Indo-Pacific, Foreign, Commonwealth and Development Office
Anne-Marie Trevelyan was appointed as a Minister of State in the Foreign, Commonwealth and Development Office in October 2022. She was first elected as Member of Parliament (MP) for the Berwick-upon-Tweed constituency at the 2015 general election. Previously, Anne-Marie was Secretary of State for Transport, Secretary of State for International Trade and Secretary of State for International Development. She has also been Minister of State for the Armed Forces and Minister for Defence Procurement. She has also previously served as the Parliamentary Private Secretary to the Secretary of State for Defence.
Honorary chair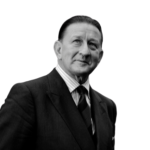 Dr Carl Stephen Patrick Hunter OBE
Honorary Chair, Geostrategy Forum
Dr Carl Hunter OBE is Chairman of Coltraco Ultrasonics, a high-exporting advanced manufacturer. He is also: Chairman of the British Exporters Association; Director-General of the Durham Institute of Research, Development and Invention; Director of the Centre of Underwater Acoustic Analysis; Professor-in-Practice at Durham University Business School; Visiting Fellow of the Royal Navy Strategic Studies Centre; and Fellow of the Institute of Marine Engineering, Science and Technology.
Venue
To see past events at the Geostrategy Forum, please click here.
Our members get preferential invitations to our Geostrategy Forum. To find out more about our membership packages, please visit our memberships page.
For further information about the Geostrategy Forum, please email John Dobson, Policy and Events Coordinator, at: [email protected].